current promotion
Special Limited Time Offer.
Garage Organization Systems
For many people the garage is like a second home, serving as a workshop, hobby center and even a place to relax and unwind after a long day. In order to take full advantage of all the space your garage has to offer, implementing some structure and organization can go a long way toward reducing some of the clutter and creating a little extra room.
Installing cabinets, workbenches, shelves, hooks, baskets and more, you'll be able to stow everything away in a spot that is both out of the way yet conveniently accessible.
Reclaim Your Garage Space!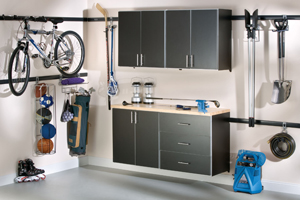 FastTrack Wall System
Rubbermaid's exclusive FastTrack system makes organizing your garage quick and easy. Constructed with heavy duty steel, the FastTrack rail system holds up to 2,000 pounds and is extremely durable. Finished with rail covers, the system provides a clean, finished look for your garage.
Browse our wide variety of accessories that simply "Snap On" to the FastTrack system to move your cluttered floor into an organized space on the garage walls.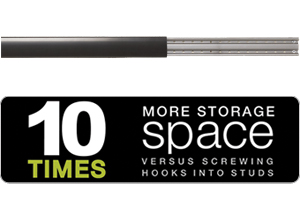 5 Great Accessory Packages
We even make your choices easier and more affordable by pre-packaging an assortment of baskets, shelves and cabinets into accessory packages. We can easily assess your "garage inventory" and choose the accessory package to meet your household needs. It's that easy.