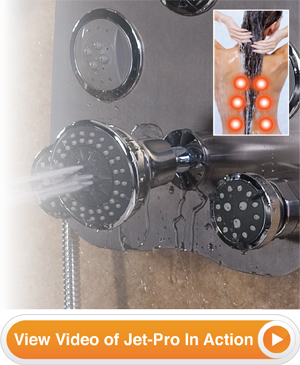 The revolutionary Jet-Pro Shower Spas®, the first hydrotherapeutic massaging shower panel for in-home use and will literally transform a regular shower into a beautiful spa retreat in minutes!
Feel the Difference! The combination of heat, water and massage – will energize and heal your aching muscles.
Hydrotherapy Benefits
Millions of Americans suffer from back or joint pain, but Jet-Pro Shower Spas® offer an attractive solution. Our revolutionary Back Saver Technology provides the only in-home shower solution designed to focus hydrotherapeutic massage power right where it's needed.
Relief from pain & stress
Increased circulation
Immune system stimulation
Release of endorphins
Flushing the body of toxins
4 Features, 5 Settings - Infinite Options!
Effortlessly change from invigorating massage, to misty rain and everywhere in between with our shower spas. From the giant 8-inch Rain-Style shower head to the removable Twist Select Hand Shower™ and our exclusive Powerful Comfort Jets aligned with critical muscle groups in the back and shoulders, Jet-Pro Shower Spas provide the spa experience.

Overhead Rain-Style
Showerhead for a Resort
Like Experience

Twist Select Hand Shower for
Full Body Relief

Aqua Command 4-Way Diverter
and 6 Powerful Tilting
Comfort Jets

Centered Tiling Turbo Jet
Choose From Six Attractive Styles
The specialized design of these new full featured shower spas bring both elegant styling and superior body massage pleasure right into your home. It is like waking up and stepping into your own private water wonderland.
Colonial
Imperial
Royal

Brushed Stainless

Antique White

Soft Sand

Coral

Silver Mirrored

Black Mirrored
Quick and Easy Installation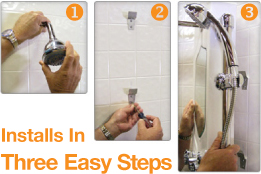 The unique pre-plumbed, totally self-contained construction allows any shower (home, apartment, hotel or health club) to receive a remodel-level upgrade in less than an hour – without new construction or changes to existing pipes and water pressure. You don't even have to turn off the water supply!
It's Easy as 1, 2, 3!
1. Remove old shower head
2. Attach two mounting brackets
3. Hook connection to the water line, hang unit and enjoy!