H1 Title:
What is Bathroom Refacing?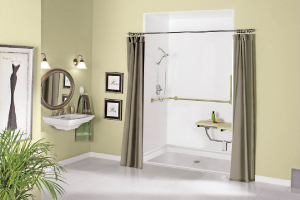 Bathroom Refacing is a quick and unobtrusive bathroom makeover that eliminates the cost and hassles associated with a conventional renovation or remodel. If you have a worn-out and aged bathtub or shower, it can be rendered a new life with a high quality tubliner!
In just one day, we can install a bathtub or shower liner that fits right over your existing bathtub or shower. Additionally, you can choose from a variety of options to upgrade the bathroom vanity to add an elegant touch to your new bathroom.
Bathtub and Shower Liners -
A bathtub and shower liner is the most common bathroom refacing option. Tubliners are ideal whether you want to refinish your bathtub from a decorative perspective or you are struggling with a worn or cracked bathtub surface.
A tubliner can be customized with your selection from wide range of color shades and patterns to complement your bathroom's current style, or to create a new one!
Choose from a variety of accessories such as new shower heads, soap dishes, sliding glass doors and more to complete your bathroom upgrade.
Material:
Tubliners are composed of a high grade acrylic material that is manufactured to the exact shape of your existing bathtub or shower. Unlike bathtub reglazing, it is an economical solution that offers years of maintenance free performance, eliminating the need to have your tub reglazed again and again.
Maintenance:
Due to their synthetic composition, tubliners are naturally resistant to common bathroom issues like mildew infections and chipping/cracking due to sustained usage and exposure to water. They can also be easily cleaned with common cleaning solutions.
Upgrading the Vanity
In addition to installing a tubliner, the bathroom vanity can also be upgraded to enhance your bathroom. The cabinets can be refaced similarly to kitchen cabinet refacing to provide a great new look for your vanity. Couple that with a new vanity top, sink, faucet and commode, and your magnificent bathroom is just a few days away.
Submitted by admin on 05/21/10 - 2:58 pm