Submitted by admin on 10/07/11 - 9:54 am
So you've decided on doing a bathroom remodeling project. Luckily, we have a variety of cabinet styles and colors for you to choose from to create the perfect vanity. Picking out a color scheme that jives with the overall theme of your current bathroom or remodeling plans is crucial.
Submitted by admin on 02/08/10 - 6:02 pm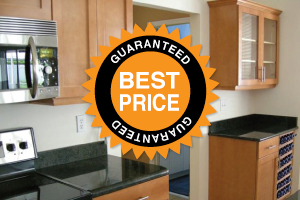 This is perhaps the most significant question for homeowners who understand the overall ease and process of refacing kitchen cabinets, but are still apprehensive about the projected cost-savings (i.e. in comparison to kitchen remodeling). However, such apprehensions are completely unfounded, since refacing is aimed at sprucing-up the present kitchen framework without changing the basic layout. If you already own ½ of a good kitchen, why pay for it again? This guiding principle is at the core of all kitchen-refacing projects.