H1 Title:
Kitchen Cabinet Doors Pt. 3 - Modern and Designer Looks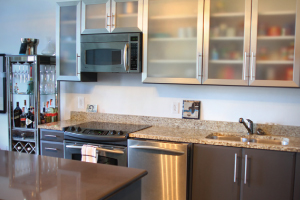 If you are ready to explore decorative options for your kitchen cabinet doors, beyond the conventional choices, three contemporary refacing styles can be considered — use of glass panels, stainless steel doors and mullion inserts.
Option 1 - Glass Panels
Glass provides a distinct decorative appeal to homeowners wanting more than a basic cabinet door. To complement the visual appeal, a greater amount of natural and artificial light is retained by the glass doors, helping to highlight the kitchen-space and decreases the dependence on power-consuming light fixtures. Extensive use of glass also eases the appearance of a cluttered kitchen space that can convey an unwanted, suffocated feeling.
Glass panels can be easily installed within recessed panel doors and can be plain, textured, ribbed, frosted or etched. Further, it can be shaped in various formats such as: diagonal, vertical and horizontal to create various, angled shapes as per your instructions.
Textured glass is slightly more expensive, but it adds a touch of opulence to the kitchen space. Ribbed, frosted or etched glass is recommended if you don't want the cabinet's contents to be within the field of common vision.
Option 2 - Stainless Steel Doors
Stainless steel is perhaps the best choice for establishing kitchen cabinets that can offer a lifetime of sturdiness. The use of stainless steel can be customized according to your pricing limitations. Since stainless steel is used in the form of thin panels/strips, the amount of steel used per cabinet can be modified.
Stainless steel refaced cabinets are more resistant to common problems such as wearing-out due to negligent usage. Further, steel itself is immune to any form of chemical or moisture-borne deterioration and staining. Though an affordable choice, stainless steel frame doors do need periodic wiping with a dry cloth since the steel surface tends to retain scratches and fingerprints.
However, its appeal when blended with glass panels in the background of a wood-paneled door conveys an unmatched, subtle elegance. You should understand that in terms of repairs or recurring expenses, stainless steel is an overwhelmingly secured option since it is totally, undemanding in terms of maintenance/preservation-based concerns.
Option 3 - Mullion Inserts
A mullion is an easy way of creating a designer look among your kitchen cabinets. Here, prefabricated panels are fastened upon the cabinet door. This creates the image of the door's surface being segregated into small sections. Mullion door cabinets are easily identifiable due to this 'grid-like styling'. Each section rests above glass door panels.
A mullion can be made of wood or steel, but wood is the most common choice. Mullion door cabinets are ideal for kitchens that want to display their cabinet's contents in a partial manner.
If you have a large collection of house-fine china or decorative housewares used for decoration when displayed in the open, mullions are a great way to showcase these items. The mullion frame envelopes the cabinet's contents to certain extent, but doesn't completely overshadow the contents.
Submitted by admin on 03/01/10 - 6:33 pm