H1 Title:
How Much Does Kitchen Cabinet Refacing Cost?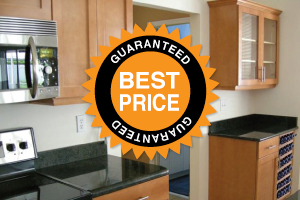 This is perhaps the most significant question for homeowners who understand the overall ease and process of refacing kitchen cabinets, but are still apprehensive about the projected cost-savings (i.e. in comparison to kitchen remodeling). However, such apprehensions are completely unfounded, since refacing is aimed at sprucing-up the present kitchen framework without changing the basic layout. If you already own ½ of a good kitchen, why pay for it again? This guiding principle is at the core of all kitchen-refacing projects.
Most kitchen refacing projects involve the installation of new cabinet doors, drawer fronts and drawer boxes. Refacing uses the existing cabinet frames and allows the homeowner to select from a variety of custom door and drawers along with a matching veneer to cover the existing frames and complete the look. Hardware pieces such as new hinges, handles, knobs and glides are also added to cabinets during the refacing process. If you are still uncertain by the cost-savings that kitchen refacing presents, consider the following example of various finishing options commonly used in kitchen cabinet refacing.
Cost Considerations for Finishing Options in Kitchen Cabinet Refacing
The simplest method for lending a 'newly-installed' appearance to your kitchen cabinets is using any of these three finishing options — Plastic laminate, Thermofoil or Wood.
Plastic laminates offer a variety of color options, but aren't as durable as RTFs. However, the availability of more printed designs has made them popular among many urban kitchens.
Thermofoil (RTF) are durable and considered the most affordable of finish options. It has a wood-like finish and is ideally suited for your kitchen. Thermofoils are generally available in a variety of solid and wood-grain patterns.
Wood finishes are pricier than the above options because of the distinct, natural wood look they render to a finished kitchen cabinet. Wood cabinets need minimal care and are guaranteed to last.

Understanding Typical Costs for Kitchen Cabinet Refacing

All reputed home improvement companies will provide a free in-home cost estimate for kitchen cabinet refacing. On average, most refacing projects should not take more than 3 – 5 days to complete if handled by a professional company. Therefore, there is significant savings due to the lower amount of labor involved and time needed for completing the refacing project compared to a full kitchen remodel. Price differences can also be dictated by the selection of different materials that are presented as kitchen refacing options.

The role of the home improvement service provider becomes critical to the final pricing. The contractor is responsible for educating you about various refacing options, the parameters used to distinguish such options and their suitability for your kitchen space.
Submitted by admin on 02/08/10 - 6:02 pm