H1 Title:
How to Make your Kitchen Remodel 'Green'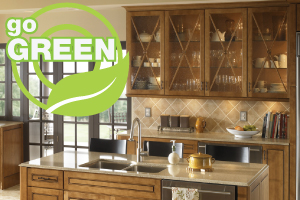 Today, everyone is concerned with being environmentally friendly, from reusable grocery bags to recycling paper to buying more fuel efficient cars to reducing the amount of trash thrown away. But not everyone knows how to make remodeling projects environmentally friendly, or 'green'.
We can help. Sustaining our environment for years to come is beneficial to us and the future of the Earth. Here are some tips on being environmentally green with your kitchen remodeling project:
Find Renewable Products

Products such as bamboo are incredible renewable resources. Bamboo grows quickly and is therefore an ideal choice for cabinets, flooring, furniture and more. When choosing your wood, consider bamboo as your green choice.

Reface Existing Cabinets

Reface existing cabinets in order to save both types of 'green'. By refacing your kitchen cabinets, you are minimizing the amount of wood used compared to building an all new kitchen for a full remodel. In addition, a kitchen cabinet reface saves money and time by enhancing your existing cabinets.

Use Energy Efficient Lighting

Save money in the long run with energy efficient lighting. Energy efficient lighting may cost more, but its longevity and lower energy consumption are more enviromentially friendly. Energy efficient lighting can be found at your local Home Depot store.

Reuse Old Products

Reuse old products to help save money and the environment. Don't throw out that old table just because you change your cabinet color; simply stain the table to a matching color or shade.

Replace Appliances with Energy Efficient Appliances

If you must replace your appliances, switch to energy efficient appliances to help save water, electricity and money. Energy efficient appliances can save hundreds of dollars in electricity and water a year.
If you are considering a 'green' kitchen remodeling project, take these five tips to heart. If you need help remodeling, we are here to assist you.
Submitted by admin on 08/01/11 - 2:41 pm