H1 Title:
Don't Be Afraid of Opening Your Garage Door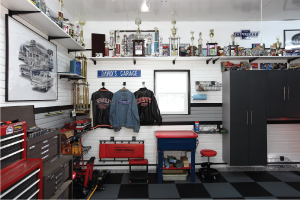 For some Americans, the garage is a sanctuary of sorts. It serves as a workshop, hobby center and even a place to relax and unwind after a long day for some. And then there are the rest of us...
In most homes, the garage is a frightful place to even talk about. Old junk is piled high everywhere and you're afraid to keep the garage door open out of fear that the neighbors will catch a glimpse of the mess. Whether your garage is that much of a disaster area or just a little bit cluttered, we offer great solutions to help you organize the mess.
The trouble with most garages is that families need to utilize them to store many irregularly sized and shaped items in an out-of-the-way location, but they still want to have easy access to the items should the need arise. This poses a bit of a conundrum. Lucky for you, we have a deep assortment of cabinets, workbenches, shelves, hooks, baskets and more to help simplify your garage organization project. By putting them to use, you can easily store all of your various items in accessible locations without having them spill out into walking space.
If you're feeling overwhelmed by the myriad of options at your fingertips, don't worry; we will simplify the process by assessing your "garage inventory." Once that is complete, we will recommend a garage organization accessory package that will work best for your particular needs. Yes, it's truly that simple for you to achieve an organized and usable garage that the neighbors marvel at.
And you thought we just only specialized in kitchen remodeling and bathroom remodeling...
Submitted by admin on 09/08/11 - 2:18 pm