H1 Title:
Design Your Dream Bathroom Online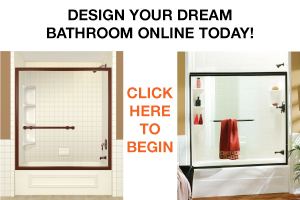 With our online bathroom designer, you can design your bathroom online with just a few clicks of your mouse! You can design either a shower or a bathtub area in no time. The shower designer has options for soap dishes, handles, seats and basins, while the tub designer has options for soap dishes, handles, tub styles and optional shower doors - all with endless color combinations.
You can also choose the wainscot in a variety of designs and colors, as well as the design of your walls including tiles and more. In addition, you can change the look of the bathroom in the design studio to help better resemble your individual bathroom.
If you have been struggling to visualize your bathroom remodel, consider the bathroom designer and see for yourself the beauty that a new bathroom can make in your home. For more information on bathroom remodeling including bathtub surrounds and cabinet refacing, contact us.
Submitted by admin on 07/18/11 - 12:43 pm