H1 Title:
Choosing Between Bathtub Remodeling, Refinishing or Refacing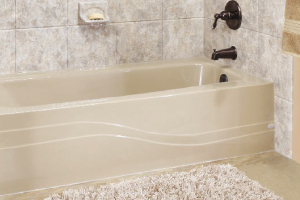 The two major reasons for homeowners looking to upgrade their bathrooms are to increase the value of their home or to simply enhance their existing bathroom. The best way to improve the overall look in the bathroom is to start with the most visible item, the bathtub. There are three main approaches to upgrading your bathtub area: remodeling, refinishing and refacing.
Most homeowners simply think of 'remodeling their bathroom' when they feel it's time for a change. However, remodeling the bathtub is an exhaustive and pricier choice compared with your other options. It includes tearing away the existing tub, surrounding tiles and nearby installations including the plumbing and electrical connections.
The entire process is overwhelming in terms of the amount of manual labor and the technical expertise involved. Most bathtub remodeling projects extend over a week or more, resulting in a higher average cost. Even with a conservative approximation, an average bathtub remodeling project would cost much more than the other options (with costs such as replacing tub, tiles, fixtures, walls and labor).
Thus, there is a need for homeowners to understand alternate, easier and affordable options for renewing their bathtub's appearance and increasing its functionality. The two most popular alternatives to bathtub remodeling/replacement include - Refinishing & Refacing.
What is Bathtub Refinishing?
Refinishing is a more prudent choice than tearing-out and replacing the entire bathtub configuration, but refinishing has certain implications. Refinishing is as a quick method of thoroughly cleaning and shining the bathtub's surface, but refinishing the bathtub isn't a long-term solution.
Many homeowners are impressed by the fact that most refinishing providers promise to refinish the biggest of bathtubs within a day. However, one aspect is largely neglected - refinishing is a temporary, cosmetic approach that gradually wears-off after a sustained period of use, forcing homeowners to get their bathtubs refinished repeatedly.
It does not contribute substantially towards increasing the durability of the bathtub since the refinished bathtub is still equally vulnerable to cracking or peeling-away of the refinished layers due to negligent use.
Understanding Bathtub Refacing Advantages
Considering the limitations discussed above, refacing the bathtub seems like the logical choice. In fact, bathtub refacing has been largely practiced in commercial accommodation facilities like apartment complexes and hotels but now refacing is being increasingly retailed in the home décor marketplace for homeowners too. Some of its most evident benefits include:
Undemanding Approach - refacing involves employing home upgrade contractors who install a tubliner directly over the bathtub without displacing any existing installation. Use of messy materials used in refinishing or remodeling like concrete mix and different types of industrial adhesives that produce chemical fumes and lots of debris are negated.
Most Affordable & Quicker - Refacing is also ideal for homeowners who are hard-pressed for time and don't have spare bathrooms to use. Remodeling the bathtub means that the bathroom is rendered out-of-service for many days whereas a tubliner installation is completed within a day, limiting the inconvenience to homeowners.
Functional & Performance-oriented - using a tubliner provides benefits beyond cosmetic factor. A tubliner ensures that common issues like leaking, fading and chipping/splitting of bathtub's edges are also negated, contributing directly to the bathtub's overall durability. The liner not only covers the bathtub, but also covers the three walls surrounding the tub.
Since, tubliners are manufactured from synthetic acrylic fibers, their susceptibility to moisture-related problems is negligible. The perfect fit of a tubliner also eliminates moisture being trapped between beneath the tub's rim, which is the most common cause of hard-to-detect mold infestations among household bathtubs.
Submitted by admin on 06/01/10 - 12:31 pm