H1 Title:
Beautify Your Home with Kitchen Cabinet Door Refacing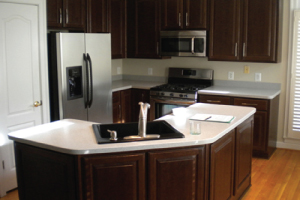 We receive a lot of questions about our popular kitchen cabinet door refacing services. Many people are curious as to what exactly "refacing" is, why more and more homeowners are having the service done in their kitchens and why they are simply falling in love with it.
Kitchen cabinet door refacing simply means removing the old doors of your cabinets and drawers and replacing them with brand new ones. While the cabinet and drawer fronts are removed, the original frames are left in place. These are then refinished: in other words, they are sanded and covered with a veneer to match the new custom-made doors that will be placed on them. The hardware that is removed with the doors is replaced with new ones.
When the new cabinet and drawer fronts are finally attached, the final result is astounding: a gorgeous, brand new-looking kitchen. Does kitchen cabinet door refacing get any better? It does – the low cost of having it completed, the decreased risk of harm to one's home, the quickness of installation...the benefits go on and on. The increasing popularity of kitchen cabinet door refacing only makes sense!
If you are interested in having it done in your home, visit the U.S. Remodeler's website, or contact a representative, to learn more about kitchen cabinet door refacing.
Submitted by admin on 02/21/12 - 4:48 pm